Faculty of Modern Languages
About us
The Faculty of Modern Languages at Heidelberg University is committed to the study of European and non-European languages, literatures and cultures from the Middle Ages to the present.
The Faculty comprises seven academic institutes. Both literature and linguistics are anchored as core academic disciplines at all the institutes. Teaching and research in literary studies is primarily focussed on the exploration, analysis, and preservation of texts. Cultural studies, intercultural, and comparative issues and methods play an important role in it.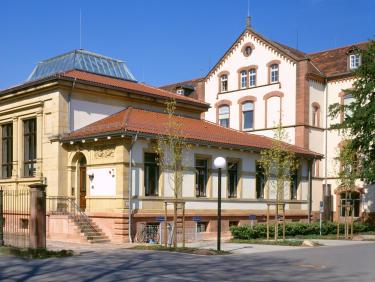 Linguistics analyzes the structures of language on the basis of theoretical models and by means of corpus-based and computational methods, and develops and researches machine processing of natural language. It also focuses on the increasing cultural and linguistic diversity in society. We explore and understand language as a format of representing knowledge, a means of communication, and system for expressing social values. The Leibniz ScienceCampus for Empirical Linguistics and Computational Language Modeling expands the Faculty's offerings in the area of Digital Humanities.
The Faculty offers in-depth language training in English, French, Spanish, Italian, Portuguese, Russian, Polish, Czech, Bosnian/Croatian/Serbian, and Bulgarian.
In addition to these traditional focuses of education and research, we take look closely at phenomena of linguistic, social, and cultural change, such as digital forms of linguistic communication and the changing social significance of literature and culture. The transfer and communication of research results to society are of great importance to us. In our mission statement, you will find more information about the Faculty's self-image and its mission in research and teaching.